Burrito Bliss: How To Roll the Perfect Burrito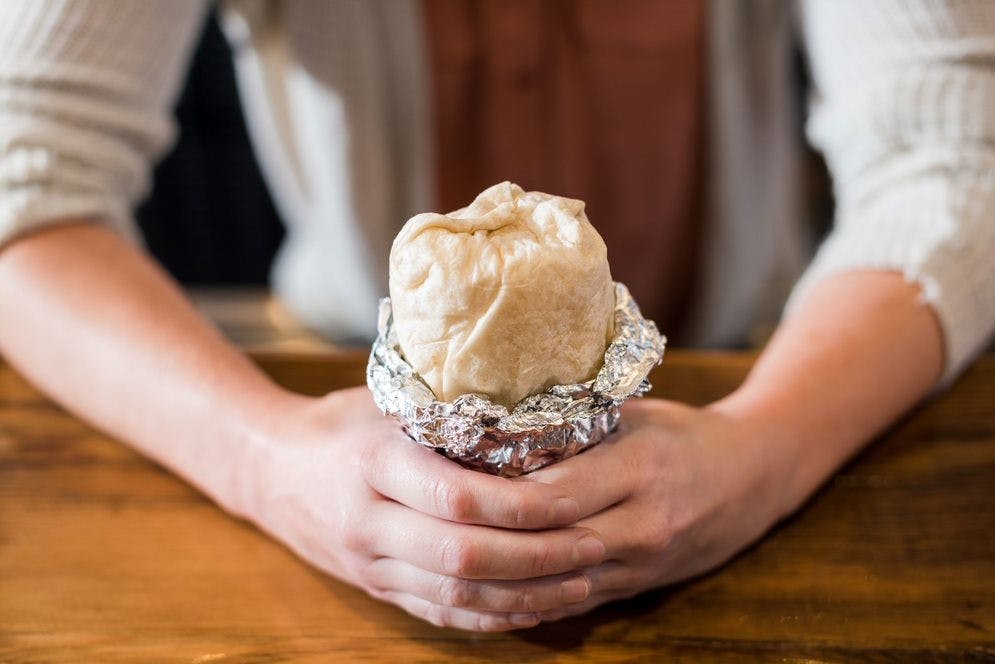 There's more than one way to roll a burrito, but is there a superior way? With nearly 25 years of experience rolling the biggest burritos of them all—Mission Style burritos, popularized in the 1960s in San Francisco's Mission District—we've learned a thing or two along the way. Whether you're ordering at Illegal Pete's or making your own at home, here are some tips on perfecting your burrito from Illegal Pete's Director of Community and Culture, Julie Tasche.
1. Start with choice ingredients.
The perfect burrito is a symphony of tastes, textures and sauces working in harmony. Rice makes a great base because it absorbs extra sauces, keeping the tortilla from getting soggy. Cheese melts everything deliciously together. Beans bring a hearty texture to the party, sautéed veggies add savory goodness, and you can't go wrong with any of our proteins, from our Three Cap Carnitas made with Niman Ranch pork braised in authentic bottled Mexican cola, to our grilled chicken or steak. Choose sauces that complement the flavor profile you're trying to achieve: our corn salsa or pico de gallo are fresh choices that add texture without too much sauciness. If you like the heat, go for our xxxtra hot salsa or green chile. Make sure not to choose too many sauces, or you'll have a soupy mess.
Wild card ingredients: try mixing in some potatoes, chipotle ranch, pesto or crushed chips.
2. The Mix is key.
We're famous for the Mix. After all the delicious ingredients are assembled in a warm tortilla, we give them all a stir so that you avoid getting a full bite of sour cream or a clump of grated white cheddar. The Mix is simple, but most burrito restaurants skip this vital step. The Mix is a delicate balance: it's also important not to mix the ingredients too much. We've found that three stirs will evenly distribute your ingredients while also keeping each bite interesting in its own right.
3. Choose the light: roll your burrito the Pete's way.
It's important to start with a large tortilla that's warmed up, so it's pliable. According to our founder and President, Pete Turner, there are two ways to roll a burrito: The Pete's Way and the Dark Side Way.
The Pete's Way: fold over the top of the tortilla to create a crescent shape; fold in the sides and give it one more flip of the wrist to roll it up.
The Dark Side Way: fold in sides first, then fold over the top and give it another spin to seal it up. This method is a bit easier when you're dealing with an unwieldy burrito jam-packed with ingredients, which is why many people do it. But the result is that you end up with too much tortilla at each end before you get to the ingredients.
4. Wrap it up.
When you're dealing with loaded Mission Style burritos, foil isn't just an accessory, it's a necessity. Foil keeps it all together so the lucky burrito recipient can indulge without ingredients falling everywhere. Roll it up nice and tight with the ends twisted. If there is a tear in the foil, it's common courtesy to let the person know by drawing an arrow on the broken end that should be torn first or rewrapping it altogether.
So, there you have it: The Illegal Pete's recipe to achieving burrito perfection!