INTRODUCING OUR COMMUNITY SUPPORT AND LIVING WAGE INITIATIVES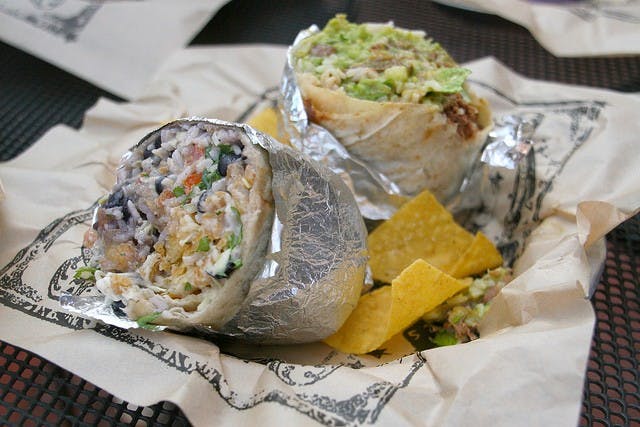 The iconic Mission Style Mexican restaurant opens September 20 on the historic Mill Ave., bringing jobs and a place for community with it.
Illegal Pete's is bringing a delicious and customizable dining experience in a fast casual setting to Tempe. Opening across from the historic Harkins Theater on September 20th, customers can choose from ethically-sourced meats, fresh veggies, handmade salsas and toppings to craft their entree--not to mention the full bar. But ask any Coloradoan about Illegal Pete's, and they'll tell you it's about much more than the food. As such, we'd like to introduce you to our community initiatives that are designed to nurture the Mill Ave. neighborhood and greater Tempe, including Open-Source Community Space, Sponsorships & Fundraisers and our Living Wage Initiative.
---
Open-Source Community Space
Illegal Pete's Tucson; Image courtesy of Rob Paulus Architects

We welcome all. Illegal Pete's mission is to create a place for relaxed human connection. Just as each entree is totally customizable to our customers' dietary needs and desires, so is the Illegal Pete's experience.
We host a variety of events at Illegal Pete's locations, from free Core Power yoga classes to trivia nights to DJ sets to charity events for nonprofit organizations. Recently, we even let our customers paint a community mural on our wall at Illegal Pete's Northside (Denver). Whether patrons want to book their band to play a show, or start a movie club for post-Harkins viewings, Illegal Pete's goal is to blend seamlessly into the Mill Ave. community.
---
Sponsorships & Fundraisers
Illegal Pete's is proud to sponsor Denver's Yellow Designs Stunt Team
For each Illegal Pete's community, the restaurant sponsors local musicians, artists, sports teams, athletes and more.
Illegal Pete's holds weekly fundraisers for local schools and charities that provide school supplies for teachers and students, food and clothing for the homeless, career advancement for those in need and supplies for those in natural disasters.
Our annual charity fundraisers are month-long events, where a portion of all sales that month go towards causes like fighting breast cancer, boosting child literacy, reaching at-risk youth with music programs, or funding schools for individuals with Autism Spectrum Disorder.
---
The Living Wage Initiative

Our president believes that employees working in the quick-service restaurant industry should be fairly compensated, so that they can proudly call turn what some consider a "job" into a "career." Pete Turner has given his employees two raises in the past few years. By paying employees above average salaries and rates, Illegal Pete hopes to influence the quick-service industry to boost wages across the board; in the largest-growing sector of an industry employing 1 in 10 Americans, the potential for change is great.
Illegal Pete's minimum starting wage starts at $12/hr., which already meets the legal minimum of 2020 in both Colorado and Arizona. The quick-service restaurant concept also offers its employees fully matching 401k and health insurance for 30+ hour employees. By 2020, Illegal Pete's hopes to raise the minimum starting wage to $15/hr.
While lobbying to raise Colorado's minimum wage, Illegal Pete's founder Pete Turner met likeminded Colorado business-owners and together, they formed Good Business Colorado. GBC is a sustainable business-minded organization advocating for socially-conscious business practices, and making meaningful, value-based choices in business. They're often found testifying in favor of legislation such as one that would give each Coloradoan a 401k (here), or other issues that affect the community.
Among the excitement to hire Tempe residents and bring more good jobs to the area, Illegal Pete's looks forward to hosting live music and sharing a courtyard with the Harkins Theater, which should result in regular film nights or an easy spot for movie-goers to grab a bite or a drink. And hopefully there will be some healthy competition between the ASU location and the U of A location.