FREE BURRITOS JUST GOT BETTER - WITH FREE BEER FOR TOURING BANDS!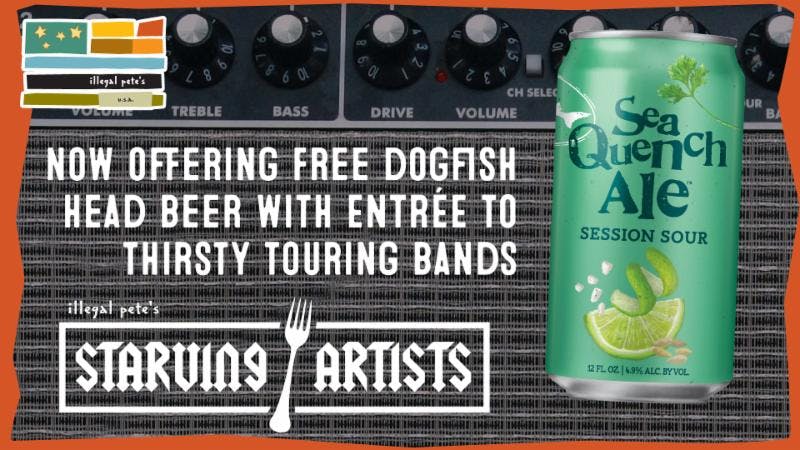 Colorado restaurant, Illegal Pete's, teams up with Dogfish Head on Starving Artists program
>> Starving Artists Sign-Up <<
An epic union: Illegal Pete's partners with Dogfish Head Brewery to offer free beer with free burritos for the Starving Artists program
Psst! Bands: Take our survey!
Thirsty road warriors and parched troubadours, take heed: The greatest tour support has arrived in the divine form of free beer. SeaQuench Ale is a hybrid sour quencher that "may be the world's most thirst-slaying beer," according to Men's Health. Nothing less for those who've worked up quite a thirst from endless travel.
"I'm told Dogfish Head Brewery's tasty SeaQuench Ale is the most thirst-quenching and refreshing beer out there," says Illegal Pete's President, Pete Turner. "Hydration is exactly what a traveling musician needs, combined with our delicious and nutritious food. They'll come out of this feeling stronger, smarter, and more ready to rock."
Illegal Pete's Starving Artists program feeds touring artists--musicians, bands and various performing acts--when they travel through Colorado and Arizona. Bands simply sign up on the website in advance, and are visited by the Burrito Fairy, who unlocks the secret code to free Illegal Pete's burritos during their visit. And if free burritos could get any better, Illegal Pete's is now offering free beer with their order!
"When my Colorado co-workers came to me while working on this program with the good folks at Illegal Pete's," says Dogfish Head founder Sam Calagione, "I thought -- whoa, here's a company just like Dogfish, who cares about the arts and giving back to the community that gives them sustenance. Namaste to Illegal Pete's, and everyone that eats and drinks at Illegal Pete's."
Three styles blissfully brewed in sequence for a citrusy-tart union, Dogfish Head Brewery's hybrid sour quencher is brewed with lime peel, black limes & sea salt. Clocking in at 4.9 ABV and 10 IBU, SeaQuench is a highly sessionable beer that pairs great with seafood (Big Fish Burrito, anyone?). This sour mash-up of a crisp Kolsch, a salty Gose, and a tart Berliner Weiss will surely make you feel like you're laughing into the briny, wave-spattered wind on the open seas, instead of getting back into the smelly tour van.
THE SMALL PRINT
Interested bands should fill out the Starving Artists form at least one week in advance of their show; closer to the date is also okay, but we can help promote your show with more advance. We don't guarantee same-day requests. Bands must be on tour from another state; no locals, sorry--this is a tour support program. Locals, this and this are for you. Rock on.
To interview Pete, Virgil or the Burrito Fairy, email erin@illegalpetes.com or call 720-369-4305.