Queso Love: A Valentine's Day Poetry Series by You, Our Customers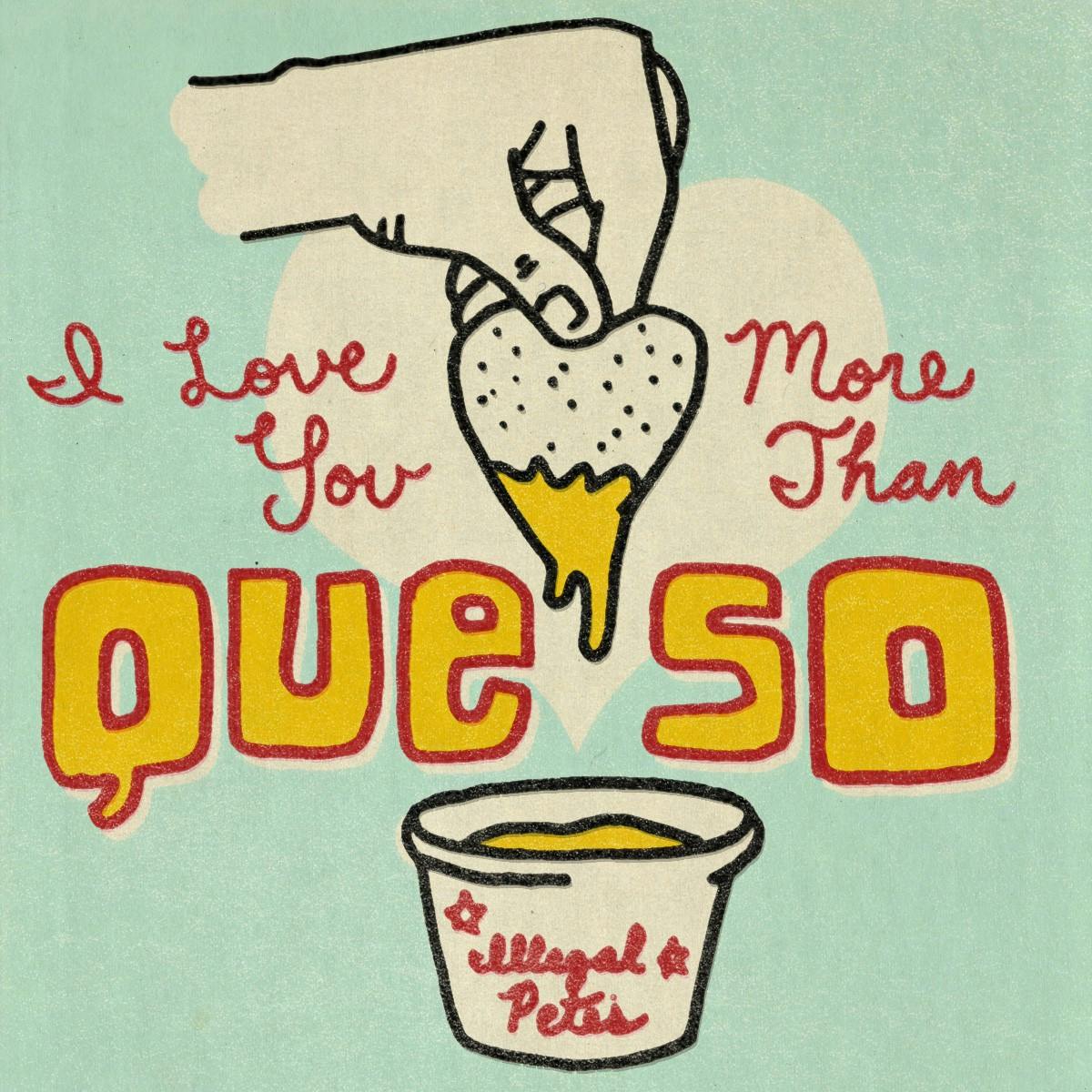 A few months ago in our Weekly Mix newsletter, we asked readers to submit something "nice" about Illegal Pete's to be considered for free Grandoozy tickets. We got a grandoozy of a response. Delicious odes written to queso, notes that genuinely touched our hearts, and even some steamy words for Pete. We've been marinating in all this community-love for so long, we decided to release it back into the world. Read the lot of them below, and thanks to everyone who contributed!
---
Pete is a poblano pimp with a heart of gold.
– Deborah L.
Pete, you're soooo good looking!!
-Jennifer M
Pete is a rad dude! He bought me a shot of tequila once. And he's a fellow Buff alum! I know you probably gave away passes already, but worth a try!!!
-Nick
Pete is the most important burrito man in Colorado history!
-Michael B.
Pet has an incredibly nice shiny head*
-Andrew A
*editor's note: we didn't correct them misspelling because we thought it was charming and twee
My compliment/honest testimonial - I'm a bit of a burrito snob. I have had burritos from coast-to-coast, and Pete's operates at a very high level, in my professional opinion. I choose Pete's over any fast-casual burrito chain or mom/pop's. The portions are always on point, the burrito artists crafting my burrito are always happy and delightful (I enjoy happy people - makes everything in the world better), the selection of drinks is always on point, and the atmos of all of the IP's locations is killer. Outdoor patio seating, beer, and a burrito (w/ queso and green chili... the only way to go) is really the perfect setup for a perfect day. Illegal Pete's shreds in every way an eating establishment should. Top notch/Ace
-Erik H
Our neighborhood is definitely better with you in it. I love to come by and catch a yoga class, listen to music or just get my burrito fix, Pete or Illegal Pete's you certainly have made a fun spot to be!
-Nancy
I love going to Illegal Pete's (mainly the DU location, but they're all Rad). Pete has done such an amazing job creating such a great company that actually values it's employees and it's guests. We had DU cater one of our work functions, and we will never turn back. Everything is always delicious and we suggest to every company who asks.
-Lisa T
Although I've only met Pete in passing, the brand he's created helps validate what I'm doing as a musician. In Denver now, it's hard to be an artist, and I feel hopeful that brands like Illegal Pete's and people like Pete himself are looking out for us -- helping scaffold the Colorado music scene and artists. Thanks, Pete!
-Michael
Pete,
I moved to Colorado 13 years ago from Austin, Tx where margaritas are something of great pride and seriousness. After looking high and low throughout the state i can without a doubt say that your margaritas are the best around. Uppity restaurants can keep their overpriced sweet and sour margarita garbage and pretentious clientele while the real connoisseurs (such as myself) know that the best and most affordable margs are poured at illegal Pete's!
Thanks,
-Brandon Smith
Pete deserves a huge compliment for supporting local musicians. And also for offering guacamole as an option to cheese and sour cream. Other similar restaurants charge for this option which I find very annoying. Great job Pete!
-Frank
Oh Pete, you're the greatest friend anyone can have. You're a gift to those around you. In fact, you're the most perfect you there is. In fact, Pete, you light up a room whenever you're in one. You're all that and a super-size bag of chips and queso. On a scale from 1 to 10, you're an 11. You're even more beautiful on the inside than you are on the outside. Thank you for being there for me and bringing out the best in everyone.
-Ann L.
First of all I want to say how amazing you and illegal Pete's are for making the burritos we all love with the freshest most quality ingredients and serving them at the hippest spots by the coolest employees. Speaking of cool employees it is so awesome seeing you recognize them in your weekly emails really touches my heart because that doesn't happen at all enough. My parents as well as all their friends run businesses in the food industry and I work at a bar so it means a whole lot to appreciate the rockstars we are! I really do love how special you treat your customers also. With all the fun events, food and drink specials and ticket giveaways you go to the moon and back above and beyond. It would be so cool to win your grandoozy giveaway! My wife loves the lineup especially Kendrick and I would love to get down!!!
-Tom
Good morning!
Pete! I'm a big fan and frequent visitor of your South Broadway location. I love coming back for your margaritas and filling vegan bowl, but it has been YOU all along that has made me a loyal customer. 😍
I admire business owners that give back and take pride in their role in the community. Your Yummy Margaritas are just the cherry on top to your local music support, minimizing the use of straws and going to bat for employee rights!
Thanks Pete! Also, big thanks to your amazing and friendly team!
-Jules L
Pete, You're cooler then a childhood secret handshake! ;)
– Rach D
Pete's celebration of humanity makes me happy.
I like Pete and his food.
It would be really cool to go to Grandoozy.
-Spencer B
Dear Pete, you handsome devil you,
Your generosity far surpasses that of the average man by poviding the opportunity for a music-lover like myself who otherwise would not have the means to experience such a festival. I'm sure your musical tastes rivals that of any of the musicians play at the festival. I'm sure if it weren't for your love of burritos and queso your professional endeavors may have taken you to be a performer at such a festival. Wishing you the best day! Thank you for the carnitas burrito bowls BTW!
Sincerely,
-Gina M.
Pete is smarter than Google and Mary Poppins combined!!
-Catherine C.
Pete - I think you're super great! Thank you for creating a place that serves delicious food in such a chill and enjoyable environment. :)
-Jena S
Shout out to Pete for creating a place that I can bring visitors, enjoy a beer alone, grab lunch to go, POTATO bowls, and hang out with friends on a hot summer day. Illegal Pete's is versatile and for everyone!
-Alyssa P
---
Shucks, guys! You really know how to make a burrito restaurant feel special. Much love to all of you on Valentine's Day!